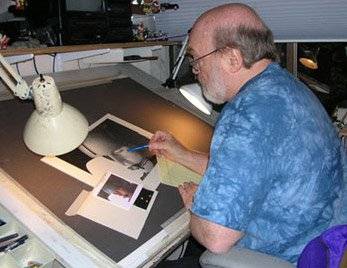 Vietnam War veteran Michael Reagan of Edmonds, Washington, has been a talented artist all his life. For 14 years, he's used his artistic gifts to immortalize fallen soldiers in portraits he gives to their families.
Back in 1968, Reagan was serving in Vietnam when he witnessed the death of a close friend and fellow marine, Vinnie Santaniello, during a rocket attack. Reagan vowed to make the most of his own survival by using his drawing talent to give back. For years, Reagan specialized in drawing celebrity portraits, which he auctioned off to raise money for charity.
In 2003, Reagan began drawing military heroes killed in Afghanistan and Iraq … and giving the art to their families. He's now drawn more than 5,000 portraits for his Fallen Heroes Project.
What began as a hobby has become Reagan's personal mission. "If I can spend a few hours sitting here at my drawing table and bring back a smile to a widow's face, how can I do anything else?" Reagan said. "You know, God gave me this ability to draw pictures."
While Reagan feels blessed to be able to use his talent to give back to military families, the nature of his work isn't always easy. 
"I hate the fact that I have to do this, but love the fact that I am," Reagan said.
Reagan always starts with a fallen hero's eyes, which he says make the picture come alive. The detail and accuracy with which he captures his subjects is extraordinary.
Deborah May — who received an extra-special portrait of her late husband, Sergeant Donald May, with the son he never got to meet — agrees. "(Donald's) eyes are perfect. It feels like I'm looking at him," May said. "(Reagan) brought him home."
Reagan now draws two portraits a day, each of which takes him about five hours. He then takes a 5-mile walk past a monument paying tribute to Santaniello.
"Vinnie Santaniello asked me with his last words to care," said Reagan. "And that's what I'm trying to do."
He added, "I think (Santaniello)'s telling me that I'm doing exactly what I'm supposed to do."
Source: Today Show