"I think you always want to hire somebody that's better than you. If you're given that opportunity, take it. Never turn that down…" Stacey Cunningham, President of the New York Stock Exchange
When I was younger, I always wanted to be the smartest person in the room, the wisest, the best at all the things. As I've gotten older (and wiser!), I've realized how foolish my "top dog" thinking was. If I'm the smartest person in the room, there's a problem! Successful leaders are comfortable hiring people who are much smarter than they are, who will push them, challenge them, and motivate them to be their best.
With that in mind, I'd like to introduce you to Abbi Wilt, our newest Memory Lane Jane team member and life story writer extraordinaire. The demand for writing life stories at MLJ has exceeded my capacity, so this winter I began the search for another writer with as much passion for people, storytelling, and preserving legacies as I have. And let me tell you, I have found her! Please join me in welcoming Abbi to the Memory Lane Jane team.
When did you first realize you loved to write?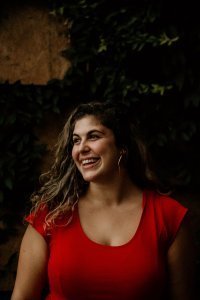 I've been writing since I was a kid. I come from a family of communicators, so writing stories, songs, and poems was always encouraged. I remember writing a story as a kid and not being able to come up with an ending. My dad told me later that he heard me complain, "This story just won't write itself!" I've been enamored with words for a long time, but it's been in the past five years that I've been especially interested in hearing people's stories. I'm fascinated by how our upbringings and experiences shape who we are and how we see the world.
Where did you go to college? What's your degree?
I went to school at Austin Peay University in Clarksville, Tennessee and have a degree in Communications, with a specialization in Public Relations and double minors in Journalism and French.
Where have you worked? What is your current job?
I started my career at Southern Living Magazine in Birmingham, Alabama—a national women's lifestyle magazine. I learned a lot from the editorial world about storytelling, and wrote about everything from food, to travel, to style, to news, to pets, to celebrities. Now, I tell stories through the YMCA of Middle Tennessee, a non-profit that focuses on bettering our community through healthy living, youth development, and social responsibility. I get to write stories and produce videos about transformation and belonging.
What do you enjoy about writing?
I love that we can capture feelings, moments, and memories from our minds and shape them into some tangible for other people to read and understand. I think it's a powerful method of expression and it unifies us.
What do you enjoy about telling people's stories?
There are always little things that people share about themselves, or about each other, that are said in passing but end up being these integral puzzle pieces in telling the story of who they are. It all fits together. I love being able to laugh alongside someone sharing a memory or feel a deep sense of loss alongside someone sharing a painful experience. It humanizes us to hear what each other have faced and overcome.
Do you have any hobbies?
When I'm not writing—which is where you'll commonly find me—I'm in the kitchen trying a new recipe, hiking with my dog in the woods, trying a new local restaurant, or doing some painting. I'm always up for an adventure in a new place. I also love to learn; I've done a beekeeping course, a fondant course, an embroidery course and I've got my eye on both an ASL and an upholstery class.
Favorite food? 
My favorite food is Chicken Caesar Salad. I could eat it every day. As a genre, though, I love Mediterranean food because of my family's Armenian roots.
Favorite places traveled?
Last year, I did a three-month backpacking trip across Europe and got to see some incredible places. At the top of my list is Italy, where I fell in love with the over-the-top expressions, colorful villages, homegrown wineries, and laissez-faire way of approaching daily life.
Favorite book? Memoir?
My favorite book is The Great Gatsby. It was the first I read that captured me with colorful, descriptive language, and it's held my heart ever since. I've read it about a dozen times. If it counts, my favorite memoir is The Diary of Anne Frank. I read it at about the same age that Anne was when she wrote it, and I think it's a powerful, representative piece of literature.
If you could interview any person (living or dead), who would it be and why?
I didn't appreciate my family's history when I was younger (blame it on my teenage self) but I would love to have interviewed my great-grandmother, Siranouche. She was a fascinating woman who miraculously escaped the Armenian Genocide in Turkey and went on to lead an incredible life. She died when I was young.
Interesting facts?
My dream is to renovate an older home and turn it into an eclectic bed and breakfast. I've always got my eye on some old mansion that pops up across the country.
Are you interested in preserving your life story or the life story of a loved one? Send us a message. We'd love to talk.