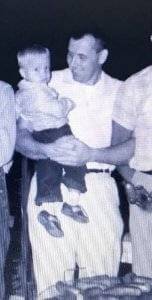 Harry "Guy" Gustin wanted to talk.
"On three different occasions during the last years of his life, my dad asked me to sit down and listen to some stories about his life," said his son Carl, Assignment Editor for Fox17 News and my former editor at The Daily News. "But I was always too busy. I didn't have the time."
Like most of us, Carl believed his dad "was always going to be around."
It wasn't until November 2018 when Guy had a debilitating stroke that Carl realized he had missed his opportunity.
"Suddenly he was in the hospital and couldn't tell me anything," Carl said.
And Guy certainly had a lot to tell.
He served in the U.S. Air Force from December 1945 to June of 1947 where he was attached to the 444 Heavy Bomb Group of the B-29 Squadron as a flight engineer during WWII.  He was honorably discharged with the rank of Sergeant.
Guy and his wife Mary Ann moved to Logansport, Indiana, in 1961 when he took a sales position at Schraders Automotive.  In 1978 he went to work at Napa Auto Parts until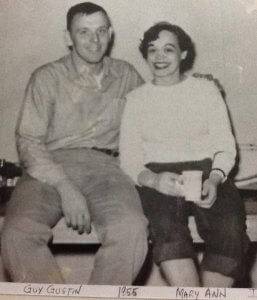 his retirement in 1994.  Guy spent 43 years in the auto parts and accessory business.
"He was everyone's favorite salesman," Carl said. "Everybody knew him."
Guy was also a lifetime member and field instructor for the National Field Archery Association and the Indiana Field Archery Association where he was also elected to their Hall of Fame in 1984.  He was also a National Bowhunter rep for Indiana for eight years and a Bear Archery Dealer for 38 years.
Guy passed away at the age of 91 on April 6, 2019. Carl said he lost count of how many times he heard guests at his dad's funeral say, "I wish your dad were here so he could tell you this story."
"If I could just go back for one day I could find out more about these stories," Carl said. "In hindsight, I would have talked to him all three times he asked. But it's too late now and that bothers me. It bothers me that I didn't take the time to talk to him."
Due to his experience of loss—the loss of his dad and his dad's stories—Carl is encouraging others to ask questions, tell stories and share memories with loved ones NOW!
"Take the time to talk now," Carl said. "Otherwise, you'll be kicking yourself."
Want to preserve your loved ones' stories in a custom, heirloom life story book? Message us for details.