Imagine opening a 2,000-piece puzzle box and dumping the pieces on the ground. There is no picture to follow, there is no guide…just thousands of puzzle pieces. Ready, set, build!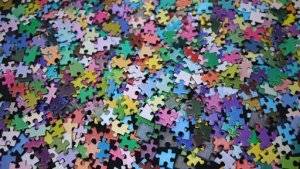 When I talk to families about writing their loved ones' life stories, I often use this analogy to describe the process. After we get the transcriptions of the audio recording back, it's a lot like piecing together a large puzzle. That memory he shared at the beginning of the first interview should actually be at the end of the book. This information toward the end about her grandmother should be in the front of the book. We have to sort through and organize hundreds of pages of text and begin to build a story, the narrative of our client's life.
I'd like to introduce you to Melanie Prins, Memory Lane Jane's own master puzzle builder! Since almost the beginning, Melanie has been working alongside me to edit and organize our interview transcripts to prep them for the writing process. We refer to this process very officially as "chunking it out." Memory Lane Jane wouldn't be where it is today without Melanie. Please join me in giving a shout out to this fabulous woman!
When did you first realize you loved to write?
In fourth grade we had to write a Haiku. Mine was chosen to be read aloud at an assembly and that did it for me!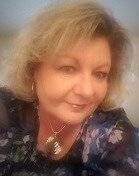 Did you go to college? If so, what's your degree
In August of 1980, I left my hometown of Muskegon and moved to Grand Rapids to attend Davenport College (now university). For a while, it was the loneliest time of my life! I majored in Fashion Merchandising/Retail Management. Who knew?!!
Where have you worked? What is your current job?
Beginning at the age of 16, I worked in retail until I took on my first office position at age 25. I worked for Gospel Films before moving to Colorado Springs, where I worked for the International Bible Society for eight years.
I returned to Michigan and soon began working in funeral service at age 35, about the same time I lost my mother to cancer when she was only 52. I worked for Clock Funeral Home in Muskegon for seven years where I was the jack of all trades. Through my position as Aftercare Director, I designed and wrote many brochures and a monthly newsletter. I have been with Heritage Life Story Funeral Homes in Grand Rapids since 2004 and have done extensive writing for the Life Story Network.
What do you enjoy about writing/editing?
I love being able to express the moment and feelings related to circumstances. Writing about an individual's life stories is so intriguing. I have come to admire so much about people and the many adventures and life experiences they have encountered along life's way. Happiness to heartaches, joys and sorrows, strength and weaknesses, etc. I have learned a great deal from writing about others.   
What do you enjoy about telling people's stories?
Being a part of sharing people's stories and taking part in that legacy for generations to come is an absolute honor.
Do you have any hobbies?
Writing, of course. I dabble with poetry and songwriting. Spending time with my two daughters and six grandkids is always a blessing! I enjoy spending time tending to my flower gardens and hope to do some traveling in the near future.
Favorite food?
Chinese!
Favorite places traveled?
I always love sand between my toes, the warmth of the sun and the cool breeze off the water. In 1994, while working for the International Bible Society, I had the privilege of traveling to Russia taking children's Bibles and medical supplies into the orphanages there.   
Favorite book? Memoir?
I have always enjoyed the writings of Susan Polis-Schultz. I need to take more time to read!
If you could interview any person (living or dead), who would it be and why?
A survivor from the Holocaust. As a young girl, I babysat for a family whose elders lived through the Holocaust. What they endured and some of the stories I heard were remarkable. I have a heart for this time in history and for the people who were so violated. It is hard to fathom human beings treated others this way.
In addition, I would interview those who have gone before me. With the knowledge and perception I have now, I wish I had known the right questions to ask my grandparents before their deaths about their growing up years, their families and how they felt as young adults starting out, and their own accomplishments and disappointments in life. I wish I had a book from Memory Lane Jane about them!
Are you interested in preserving your life story or the life story of a loved one? Send us a message. We'd love to talk.